Craig Newmark, BWF, and Other top Organizations set out to Eliminate Food Insecurity Through the Craigstable Initiative
We can all do better.
Widespread food insecurity is a problem that should never have entrenched itself in the United States. But this issue did not just happen overnight and it is not the direct result of any one factor, individual, or entity. No one wanted this, but the fact remains that food insecurity is a growing crisis that needs to be solved, even for the veterans and service members who work tirelessly to ensure our protection.

Addressing food insecurity is a complex issue that will require individuals and organizations to work together. Thankfully, the Bob Woodruff Foundation (BWF) is collaborating to solve this complex issue with Craig Newmark Philanthropies (CNP) and other top organizations including:

As a part of the "Craigstable" initiative, CNP has already pledged $25 million to address food insecurity and rising hunger across the nation. This commitment by CNP, BWF, and all of the other organizations involved is not exclusively concerned with providing additional meals today. It has been engineered to make the U.S. food secure both now and in the future.

"People in America are going to bed hungry, and that pisses me off," Craig Newmark said. "I'm working with good, effective food organizations to get people fed now, but it's not just about today. We have been successful in providing millions of meals during this pandemic, but our job is far from finished. I hope everyone will join me in doing what you can to fix this solvable problem."

Through a multi-phased approach, BWF and CNP plan on reducing food insecurity and hunger for all including our veterans, service members, and their families. The first phase, Full Plate, sets out to provide immediate relief and to get food on the table right now for those in need. Full Plate will maximize its impact through the use of mobile food pantries, meal deliveries, and emergency financial assistance including grocery store gift cards.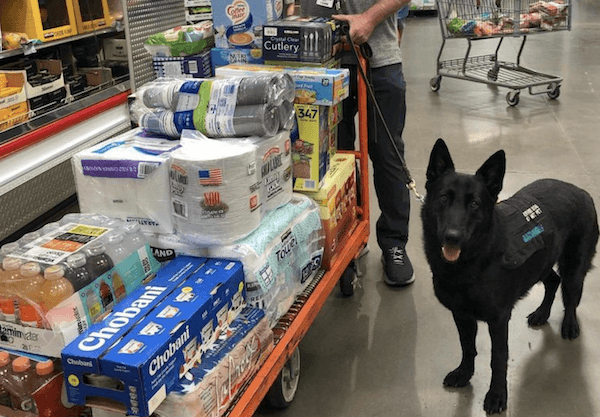 Full Pantry, the second phase, helps veterans and those in need by providing food for tomorrow. We're investing in organizations that provide case management services and wraparound support. In many instances, providers are able to identify social risk factors impacting access to food including transportation challenges, housing instability, or social isolation. Once identified, individuals can be connected with the specific services they need.

The last phase, Full Coverage, will focus on helping usher in a new economic normal where all Americans are food secure. It is an ambitious goal that will require coordination across many sectors. Although the ultimate goal of Full Coverage relies on collaborating with many organizations, the Bob Woodruff Foundation routinely works with the best organizations possible to get the job done. We are approaching the issue of food insecurity no differently and are confident in our partners including CNP and many other organizations ready to get to work.
BWF CEO Anne Marie Dougherty knows that accomplishing the mission and ending this crisis means leaving no one behind.

"We have the opportunity to drive real change for millions of Americans in need, letting them know that we've got their six."