Using the Right Ingredients
For veterans and their families in Houston, BWF and The Houston Food Bank are using equal parts sustenance, social activity, and security to show that together, "we've got your 6!".
In the United States, access to adequate nutrition is compromised for many, including some of our veterans. Food is not a luxury; it is a necessity and worrying about it only adds to the obstacles our veterans face while working toward success in their personal lives and within their community.
The Bob Woodruff Foundation (BWF) recognized the need to address food security in Houston communities through insights from our local partner network, including timely information from our Local Partner in the area, Combined Arms. Based on these insights, BWF and Combined Arms, with funding from the Qatar Harvey Fund partnered to integrate Houston Food Bank (HFB) into their network of member organizations. BWF, Combined Arms, and HFB worked collaboratively to ensure veterans experiencing food insecurity know we have their backs during these challenging times. Together, we developed a plan to tackle hunger across the Houston area and to continue supporting HFB's ongoing efforts to address food security within their community.
"We have been working with the veteran population for a long time at Houston Food Bank," Mayra Loera, Capacity and Operations Manager at HFB said. "It is such an underserved population. It is gut-wrenching to come back after service and not have the support you deserve. It should be a right."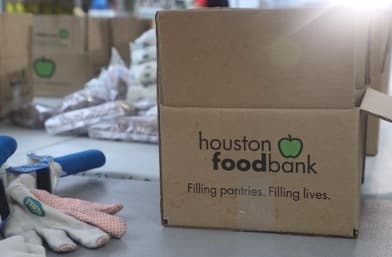 Through reoccurring events including veteran pantry days, former service members are not simply able to access nutritional meals, but they can also socialize with their veteran peers.

"At the end of the day none of us can live if we can't eat," Lytrenda Moore, Innovation and Special Projects Supervisor at HFB told BWF. "Sometimes it is easy to assume that veterans are going to be taken care of by default. But we know that is not the case. We looked at the pantry days as providing more than just food but as a way for veterans to come and congregate. They knew that they could come and see other veterans. We noticed they were really looking forward to coming out to veteran pantry days."
While the pandemic may have disrupted the pantry days, HFB is not waiting around for COVID-19 to disappear. Now, the pantry days are back and include a convenient drive-thru service. HFB members load the cars full of groceries and help prevent potentially risky interactions.
"I can't tell you how many veterans told us there was just nothing else in the city for them when we had to take a break," Loera said.
Moore has noticed a rise in both her own spirits and those of the veterans she interacts with since the pantry days have returned.

"Everyone is so extremely grateful that we have started this service back up," Moore said. "I can't even express my gratitude to know that we are making a difference in their lives."

Charles, a Houston area veteran has found that HFB's work provides a third benefit, financial security. While food is a necessity, it is also quite costly. Helping to minimize Charles' monthly food bill is helping him make ends meet during these extremely difficult times.
"I'm a disabled veteran," Charles said. "My nephew works but our bills are pretty high so that takes his paycheck right there. I get a fixed income and use it to buy what groceries I can and things for the house. At the end of each month, I'm out of food and out of money, so I depend on food pantries quite a bit."
Charles recognizes that his situation is unfortunately not a unique one.
"There are a lot of families out there that are hurting like we are," Charles said. "So, it's important that people support the Houston Food Bank to help these families and children. This is a good place, and they give a lot of food here. They really care and this helps out a lot."

While most organizations hope to be around as long as possible, Loera wishes to measure success a bit differently.

"We are trying to put ourselves out of business. If I see the same person six years later then I am missing the mark," Loera explained.