Capital Area Food Bank is Powering Food Distribution Across an Entire Region
The term "food bank" may conjure images of a single large warehouse, where food is brought in and eventually handed out to those in need. This is not necessarily a negative depiction, but not an entirely accurate one, at least in the case of Capital Area Food Bank (CAFB).
CAFB, a Bob Woodruff Foundation grantee, acts as a hub for a tremendous network that provides food for those who need assistance across the D.C. area, Maryland and Virginia.
"The food bank helps our neighbors thrive today by supplying food to a network of hundreds of local nonprofit partners, including pantries, soup kitchens, and other organizations," Hilary Salmon, Sr. Director of Marketing and Communications at CAFB said. "We also distribute food directly into the community through school-based programs, free farmer's markets, senior centers, children's after-school meal programs, and partnerships with military installations."
CAFB understands that many in need are unable to travel to them. Their mobile market programs conveniently deliver food directly to active-duty military families and veterans at the following locations:
Five Mobile Markets sites at Fort Belvoir in Fairfax County, Virginia
The USO Warrior and Family Center at Naval Support Activity Bethesda in Montgomery County, Maryland
Fort Myer in Arlington County, Virginia,
Joint Base Andrews in Prince George's County, Maryland
Marine Corps Base Quantico in Prince William County, Virginia.
"These sites are in addition to the 60 other Mobile Market sites run by the food bank that are currently operating," Salmon explained. "With BWF support in 2020, we were able to procure and distribute over 560 emergency food boxes for over 560 military families in need at our Fort Belvoir Mobile Market in partnership with the USO of Metropolitan Washington-Baltimore. Grant funds were particularly impactful in helping us procure and distribute the food needed for distribution due to a 75% reduction in the retail donated food we received amid the pandemic."
Since there is no such thing as selective poverty, those facing food insecurity are typically facing many stressful financial decisions and are forced to choose between access to food or paying for housing, medical care, and other life necessities.
"When household budgets are tight, food is consistently one of the first things to be cut," Salmon explained.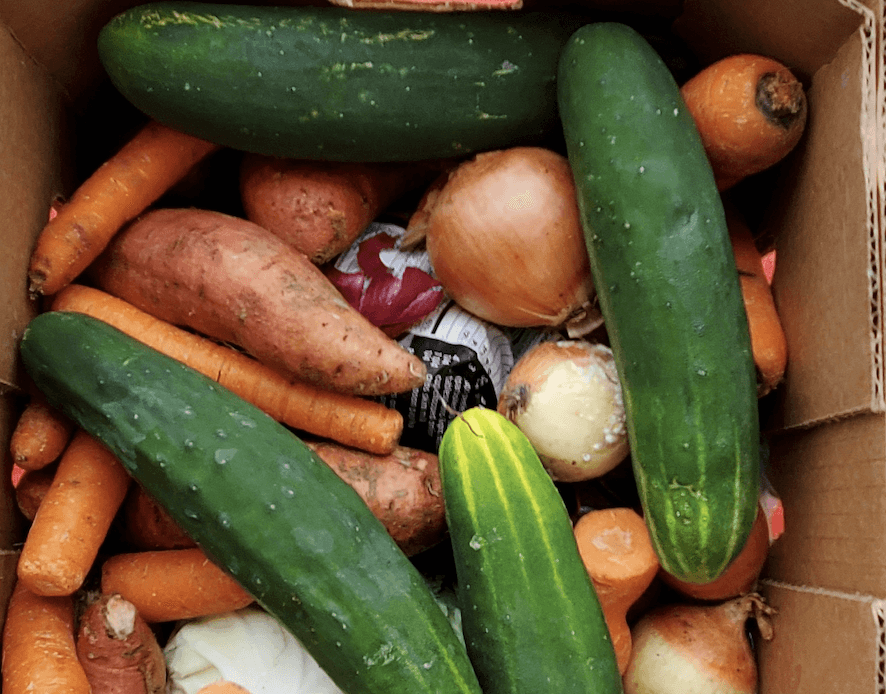 Financial struggles can often arise suddenly. Salmon and her team met a family at a food distribution event that was finding it difficult to make ends meet as they transitioned to new housing at Fort Belvoir. The family's budget was strained with commuting costs and other new living expenses as they awaited permanent housing. Salmon spoke at length with one of the family members who wished to remain anonymous.
"Thanks to the monthly distributions at Fort Belvoir, she knows she can count on a resource in an area that the family is still getting used to," Salmon explained.
Salmon also said the family appreciates the wide variety of food items available, especially the produce.

Many of us are fortunate that going to the supermarket is not a particularly stressful activity. Sure, we may want to get in, get out, and get on with our lives but we may not be faced with agonizing decisions—decisions that can have a significant impact on our families. At CAFB food distribution events, the woman Salmon spoke with appreciated being able to select her food without the added anxiety she used to feel while shopping on an extremely tight budget.
"It helps to know that someone is looking out for us despite all the challenges we face."
"It's like going grocery shopping except without all the stress," the woman said of accessing food through CAFB. "It helps to know that someone is looking out for us despite all the challenges we face."
Although CAFB is working hard to address immediate need, its ultimate goal is to create sustainable empowerment for the future.
"Because it takes more than a meal to address food insecurity in the long term, the food bank is also working with other nonprofit partners to pair food with services that can create permanent pathways out of hunger tomorrow," Salmon said. "These include programs that provide education, health care services, and job training."