Crossing the Goal Line
Brad Lang exemplifies the "Got Your Six" mindset through his resiliency and inspiring return to the playing field.
Military service and team sports can help build confidence and provide the tools necessary to demonstrate resilience in the face of challenges. As a lifelong athlete and a veteran of the United States Marine Corps, Brad Lang understands the benefits of both athletics and service.
In 2011, while working to disarm an improvised explosive device (IED), Lang lost both of his legs and his life was compromised. He underwent several surgeries and dedicated himself to an unrelenting physical rehabilitation program at Walter Reed National Military Medical Center.

Lang credits his wife, Alyssa, with helping him through his rehabilitation. While undergoing a procedure without an anesthetic that involved an extremely uncomfortable throat injection, Lang was experiencing considerable anxiety. Alyssa had very blunt but effective words for him.
"You will do this, you will get better," Lang told the Bob Woodruff Foundation while describing what Alyssa told him. "You have a son to raise."

Lang did get better and he eventually joined another team after his military serviced concluded. He is now a player in Move United's USA Wheelchair Football League. Move United (formerly Disabled Sports USA and Adaptive Sports USA) is the national leader in adaptive sports and driven by using the power of sport to push what's possible for people with disabilities. With funding from the NFL and its Salute To Service program, The Bob Woodruff Foundation is proud to have partnered with the NFL and Move United on the creation of this league. The USA Wheelchair Football League aims to do more than just organize football games. Players get a chance to be a part of a team, something that Lang truly missed since his time in the military.
"There's the camaraderie that is bred into all military personnel, and the teamwork it takes to complete every mission," Lang told ESPN when discussing his involvement in Move United's league. "It is something I am always looking for."

At the 2020 NFL Draft, Lang appeared with his son David on national television to announce the launch of the USA Wheelchair Football League.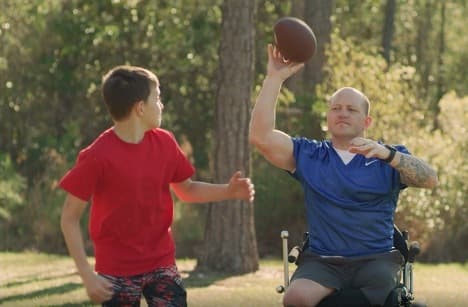 The NFL's 101st season is almost complete with Super Bowl LV taking place this Sunday. When the NFL returns later this summer, the USA Wheelchair Football League's inaugural season will also be kicking off. The league's first tournament is currently scheduled to take place in Phoenix on September 11, 2021.

For players like Lang, returning to sports after his injury provides a chance to regain a part of life that was almost lost.

"It's definitely a once-in-a-lifetime opportunity," Lang said. "Something I never would have had the dream to have the opportunity to do."