Self-Care and New Approaches – Keeping These Priorities Top of Mind During Challenging Times
Investment in our own well-being is always worth it. The ROI from self-care can help improve our emotional and physical health. Now, after a year of pandemic living, this may be more important than ever.

The Bob Woodruff Foundation (BWF) can pursue its ongoing efforts to improve the lives of veterans, their families, and caregivers through meaningful partners and relationships. One organization, Phillip Morris International (PMI), continues to support BWF as we launch a number of initiatives to effect change on the community level.

BWF recently held a virtual panel to discuss the importance of veteran self-care. We examined both existing programs and approaches, as well as new outlets and ways to access a variety of great support services. With friends from Veterans Yoga Project, The George W. Bush Institute, Bastion Community of Resilience, The Elizabeth Dole Foundation, and the David J. Drakulich Foundation, BWF examined how our increased interactions with technology and digital spaces during the pandemic may provide new ways to pursue self-care.

BWF's Chief Growth Officer Marshall Lauck led the panel. Lauck has been concerned about the impact of COVID-19 on veterans over the past year, especially when it comes to self-care.

"We reached out to some of our partners focused on mental health, self-care, and alternative approaches to long-term problems and asked them to help bring self-care back to the forefront," Lauck explained. "At the Bob Woodruff Foundation, we partner with incredible organizations like the ones represented on this panel, to provide a wide range of support for veterans and caregivers, including these vital self-care options."
Lauck understands the necessary caution we've all had to take to during the pandemic, but he's hoping our veterans do not place self-care on the back burner.

Jonathan Lindsey, Senior Manager at PMI, is also an Army veteran and currently advocates for tobacco harm reduction for veterans. He pointed out that veterans need to "unlearn some potentially unhealthy habits they may have developed during service, Lindsey said. "Moving the rucksack around to redistribute pain isn't really self-care, it's just a temporary fix so we can get on with the mission. We are veterans now, so we can set the rucksack down and look for real healing."

With all of the emphasis over the past year on risk mitigation and avoiding COVID-19, BWF has been concerned that essential self-care could be taking a backseat to simply staying safe. While the pandemic has made life difficult, to say the least, it may have revealed some new ways to provide self-care. We're now interacting with technology and digital spaces more than ever. And while our increased reliance on electronic environments may seem a bit scary or unnatural, it does present new opportunities for individually tailored approaches to self-care.

"We're excited and inspired to see people seeking out different forms of self-care online," Rashi Venkataraman Romanoff, Vice President for Programs and Partnerships at the Elizabeth Dole Foundation said at the panel. "The Elizabeth Dole Foundation launched a monthly online yoga class. I downloaded the Peloton app, where before, I may have just gone to the gym. Things like the Calm app are readily and commercially available and the VA also has a ton of free resources for veterans online."

Kacie Kelly, Deputy Director at the George W. Bush Institute has also noticed some silver linings as we start to emerge from pandemic life.
"Self-care was important prior to the pandemic but I think its exponentially more important now coming out of the pandemic," Kelly said. "As horrible as the pandemic has been it has pushed mental well-being to the top of the mindset of our community, not just the veteran community, but Americans overall."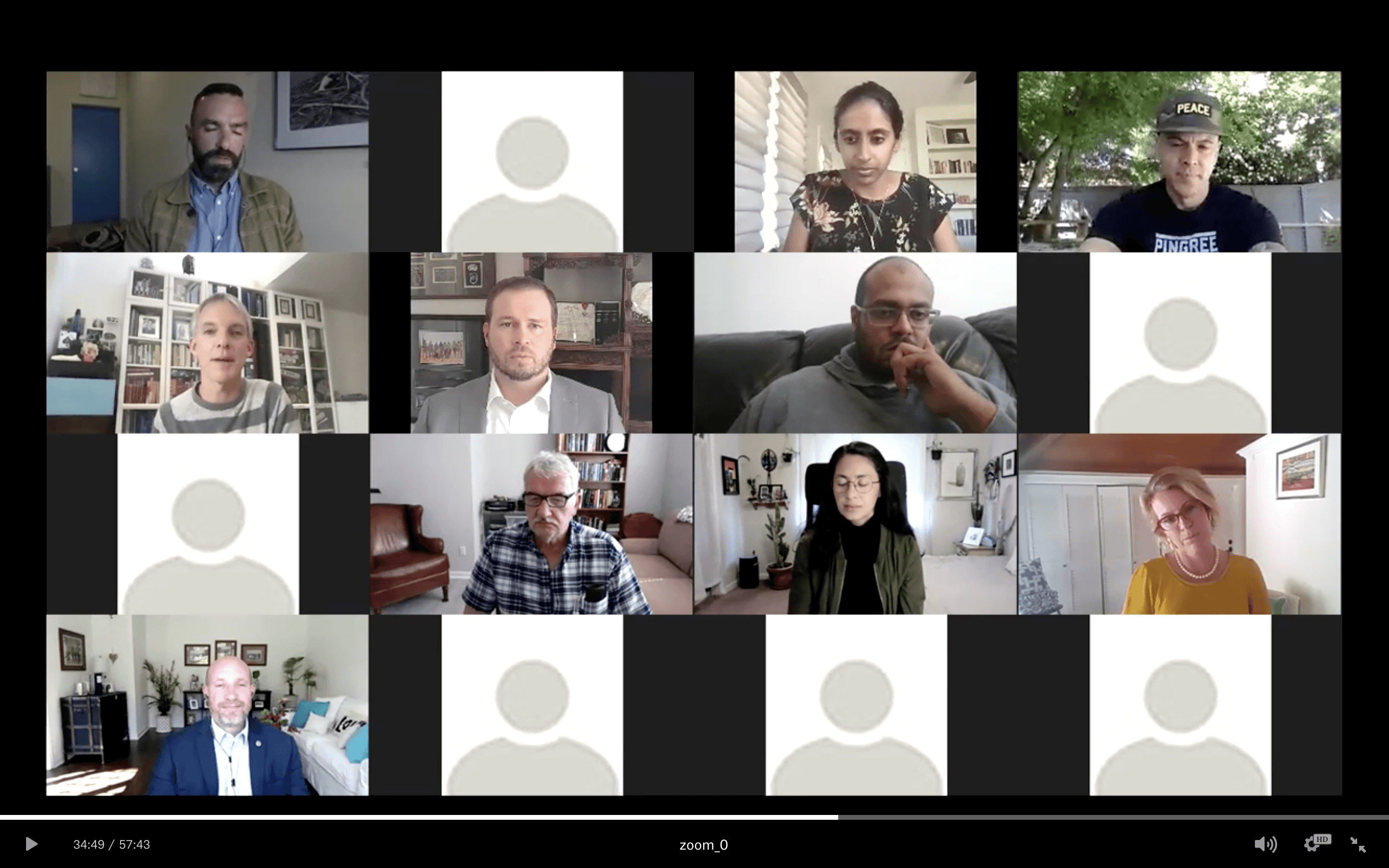 Noel Lipana, President of the Board of Directors for the David J. Drakulich Foundation, is a leader when it comes to promoting art therapy for veterans. Although he may be accustomed to in-person meetings, he has found that the pandemic can actually "increase access to the arts" for veterans. During the event, Lipana stressed that we should not let perfection be the enemy of good. While traditional therapy sessions are important to improving mental health, Lipana noted that effective self-care can be often achieved in just a few minutes.

Dan Libby, a licensed clinical psychologist, yoga teacher, and Executive Director of Veterans Yoga Project, echoed Lipana's sentiment. He asked fellow members of the panel to focus on taking deep breathes for 60 seconds.

"In less than one minute you can change your physiology such that your thoughts change," Libby said as he demonstrated how even just a quick exercise can have a meaningful impact.

Veterans Yoga Project has increased its online offerings since the pandemic started. Veterans now have access to free yoga sessions through both live and recorded classes.

"Yoga can bring people together," Libby said. "The real value is in social support."

Dylan Tête, Executive Director of Bastion, wants veterans to commit to investing in their own well-being. Self-care does not mean self-absorbed, and valuing oneself is an essential component of a healthy lifestyle.

"It is very common to think that doing something for ourselves is selfish and there is some retraining that is involved," Tête said. "If we can move from a feeling of selfishness to being self-aware then I think that will be key. Self-care, in the new paradigm, is the center of healthcare."

Effective self-care needs to be a valued commodity, something that veterans recognize as a worthwhile investment. A lack of self-care can lead to devastating outcomes including substance misuse and mental health struggles. Too often, when mental health and suicide are discussed in public forums, the conversation focuses on mitigating immediate emergencies instead of long-term preventative measures. BWF and our entire network are dedicating ourselves to promoting the value of self-care so that our veterans can take a proactive approach toward their mental health.

"Suicide prevention is not just about saving a life in crisis; it's about promoting a life worth living." -Kacie Kelly, Deputy Director at the George W. Bush Institute.
// Image: Alina Kruk/Shutterstock